How talking and cycling helped my route to recovery
Talking about my mental health is one of the very best things I have ever done when it comes to looking after my own wellbeing. The other is taking up cycling, writes Ryan Anderton.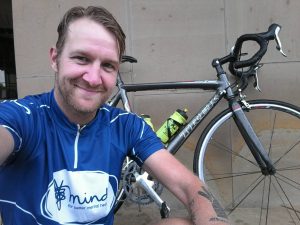 For many years, I had struggled with myself in a number of ways; I often faked who I was to fit in, I felt inferior or unworthy in many aspects of life and often got myself in to trouble in phases of self-destruction.
My problems started when I was about 17 and re-occurred at around 25, 30 & 35 before I started to take control of myself.
After several suicide attempts, I was again at a very low point when I stumbled across Andy's Man Club (a male peer support group) in Hebden Bridge and I, for the first time, opened up about why I felt so depressed and alone so often to the point whereby I wanted to die.
At Andy's Man Club I found a real and true empathy that enabled me to get further support away from the
medication option that hadn't worked previously.
I also met a few guys on an Andy's Man Club awareness bike ride that inspired me to cycle more – so much more that from not cycling for most of my life, in the last three years I have cycled over 30,000 miles including from Lands End to John O'Groats, Scarborough to Lancaster and Keighley to Oxford.
My two big mental health charity events have taken me 4,800 miles around the entire coastline of Britain and from the very north of Europe (Nordkapp in Norway) through 12 countries to the very south of Europe to Tarifa in Spain.
Cycling and talking about my mental health has introduced me to some amazing people, to some amazing places and experiences, and to where I am now: happy with life, working for Mind in Bradford as a peer support worker, doing keynote talks at prisons, schools, universities and global companies, getting nominated for regional and national awards.
I can now genuinely say that I'm making a positive impact on my life, other people's lives and giving back to a world that I often didn't want to be a part of.
Through talking honestly and openly about my life challenges, I have realised that the stigma surrounding mental health isn't as bad as I thought it was. People don't judge me negatively.
In fact, most call me brave, an inspiration, proud to know me and say how they wish more people could talk about how they are feeling and seek the help that they require.
Mental health isn't always being depressed, anxious or suicidal and is more often just an emotional reaction to a problem in life like debts, addiction, relationships or housing etc that can be resolved through finding a solution.
That's what I needed to do. I needed to ask for help and once I did, I realised that help is everywhere. People you know and strangers will support you, organisations like Andy's Man Club, Mind, Cellar Trust and Citizens Advice Bureau amongst others have been amazing for me and will support you too if you can reach out, ask for help and discuss how you are feeling and how you want to feel again.
Looking back now I wish I had spoken up sooner, I could have been enjoying life earlier. But what I am thankful for is knowing that now I can talk about my challenges, I know that I will never been alone in facing them.
If you are feeling like you are struggling please talk to someone. It changed my life in so many positive ways, I just cannot explain it fully without writing a book. Trust me things can and will get better.
You can follow Ryan's journey at www.facebook.com/recycleyourselfcampaign.
Posted on: 6th February 2020