Mental Health Awareness Week Blog 2: Getting Outdoors in Lockdown
Volunteer Bethan King writes about how getting outdoors during lockdown made a huge difference to her wellbeing.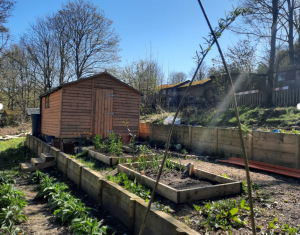 During the first lockdown of 2020, I really struggled with my mental health. I have battled with anxiety and bouts of depression for years but it hit a turn for the worst that year – as many people's did! Being stuck inside, stuck in my own head with no let up from bad news felt completely overwhelming. I have always been someone who has needed nature – I'm always out walking with my dog – but I craved it more than ever during that year! When the next lockdown came about, I realised I couldn't let myself get back into that headspace again, so decided to actively search for other ideas for getting outdoors. I found my town has a community allotment, run by volunteers much like myself. I applied to volunteer (although I don't know much at all about gardening!), and a couple of months ago started gardening there once a week. It has made a vast difference to my wellbeing – I am now around likeminded people outside, in the sunshine, surrounded by nature and breathing space. I have made some great friends already whom I hope I can do more with as restrictions start easing! They've also opened my eyes to trying other new things, like wild swimming, too!
Posted on: 11th May 2021