Mind in Bradford is running an appeal in response to the negative impact of the pandemic on the mental health of people in our community.   
Read on to find out why we're doing the appeal, how we've supported our local community during the pandemic, and how your support will enable us to shape our services, continue to #BeThereForBradford.
The situation
We know that the mental health of people in our community has been negatively affected by COVID-19 and subsequent lockdowns. 
With the uncertainty around the roadmap and the virus itself, there's one thing we know for certain: there is and will be a lasting impact of the pandemic on our mental health.
Our knowledge of the current situation and lasting impact is based on our survey, which we conducted in April 2021. 321 people across the Bradford district and Craven took part and the results showed four clear impacts of the pandemic on our community's mental health.
People rating their wellbeing said it has significantly declined since March 2020.
Anxiety, depression and loneliness are the most common problems people have struggled with since March 2020. 
COVID-19 and lockdowns have contributed to poor mental health.
Isolation, staying at home, fear of catching COVID-19 and uncertainty about the future are the most common reasons for COVID-19 and lockdowns contributing to poor mental health.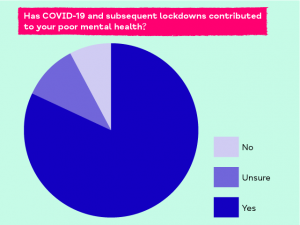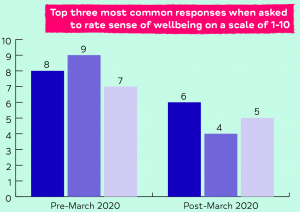 Our response 
We have been here for people in Bradford, Airedale, Wharfedale and Craven throughout the pandemic. We ran wellbeing groups online, launched a live chat and made regular calls to people without digital access.
This lockdown has shown that Mind in Bradford goes far and beyond the four walls and flights of stairs at Kenburgh House.
The number of callers to our Guide-Line service nearly doubled last year, over a third more people attended our crisis service Sanctuary and just under three times as many people accessed our 1:1 support.
We want to continue to support people in exactly the way they need to be supported. We want to extend our Guide-Line service, support more children and young people in need, and grow our befriending service Community Companions to help people experiencing isolation and loneliness.
But we can only do this with your help.
We're asking you to donate so that we can #BeThereForBradford. 
Would you prefer to fundraise to support the appeal? Click below to find out how you can get involved!
The difference your donation could make
£8.50
could fund one call to our helpline Guide-Line, supporting someone. with the advice and care that they need.
£30
could fund one hour of crucial 1:1 crisis support at the Sanctuary for someone in mental distress, as an alternative to going to A&E.
£80
could fund two hours of group wellbeing sessions that focus on recovery and learning tools to stay well.