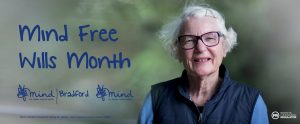 This March is Mind in Bradford's Free Wills Month, which means if you're 55 or over, you can make or update your will with a local solicitor in Bradford for free. 
 
There's no obligation to leave a gift to Mind in Bradford, but by choosing to support our work locally, you can help create a better future for everyone experiencing a mental health struggle. Once you have looked after your family and children, making a gift in your will means you can leave a lasting legacy to improve the wellbeing of future generations.  
 
To make an appointment with one of the participating local solicitors, visit Free Wills Month and mention 'Mind in Bradford Free Wills Month'. Appointments are limited so it's a good idea to book early and avoid missing out.  
 
The Mind network is here to make sure that everyone experiencing a mental health problem gets the support and respect they deserve. By leaving a gift in your will you can make sure that in the future, no one has to face a mental health problem alone.