Take on this 25 mile mountain challenge for Mind in Bradford
Saturday 6 August 2022
Raise money for Mind in Bradford by taking on the famous Yorkshire Three Peaks. The circular route is 25 miles long (40km) taking in Whernside (736m), Ingleborough (724m) and Pen-y- Ghent (694m) with a total of 1,600 metres of ascent! Making it one of the hardest walking challenges in Yorkshire. 
Your Mountain Guide for the day is John Proctor who is a qualified mountain leader and first-aider (Instagram here and author of Sky Running).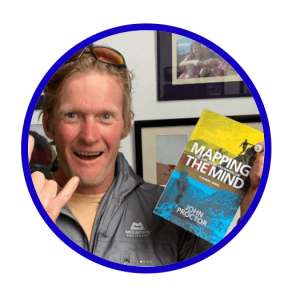 Your guide:
Hi I'm John, I've been a mountain leader since the mid 1990's and have guided the three peaks many times.
John's Top Tips for success
The challenge can take 12 hours plus so it important to consider how you will cope with the size of this challenge, please research the challenge and prepare well.
Below are my top tips for success:
Comfortable foot wear is key to success so wear a good fitting hard wearing pair of comfortable shoes, also carry 2 spare pairs of socks.
Wear light weight clothing and have layers so you can control your temperature. Make sure to bring a warm wind proof top.
Have a full set of water proofs, Jacket with hood and over trousers.
Pack nice and tasty snacks to nibble as you walk along and bring a water bottle to re-fill at the check points. Make sure to bring a packed lunch for short stops and some cash for the tea vans.
Bring any medication you need, blister patches and sun cream.
Use a proper hiking rucksack to put your things in, a waste loop and chest strap are beneficial and provide comfort.
Leave the alcohol alone the night before, eat a good meal and hydrate well.
It's a great day out whether a personal or a group challenge. You'll get to experience a real show case for the whole of Yorkshire. There may be hundreds of other folks on the trail, a carnival atmosphere can develop as we support all those around us to achieve success and bring in the sponsorship for their charities.
It will be demanding both physically and mentally, that's the nature of this challenge.
Looking forward to seeing you all on the trail,
John 
Snapshot of the challenge
Location: Horton in Ribblesdale – Map link
Cost: £35 fee + £250 fundraising target
Travel: Car or Train
Places available: 12
Mountain guide: John Proctor
Start time: 8am 
Walking distance: 25 miles (40km)
End time: 8pm (aiming to complete walk in under 12-hours)
Cost to take part
Registration fee: £35 non-refundable
Fundraising target: £250 minimum
What's included?
Qualified mountain guide to lead the walk
Mind in Bradford T Shirt
Finishers goody bag with certificate of completion
Snacks and drinks at each check point
First aiders, insurance and support vehicle
100% of your fundraising target will go towards funding our vital mental health services in your community
The route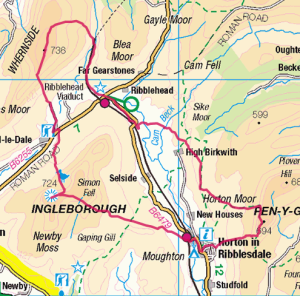 What's the route?
Check out this short video fly-through for a quick overview of the full route. You won't need a map on the day but if you'd like to bring one you'll need OL2.
What is the days itinerary?
The night before we recommend packing everything you need, having a good carb-heavy dinner and getting an early night. 
There are places to camp and stay over the night before near Horton-in-Ribblesdale. Many people do this to avoid the journey in the morning. Accommodation or camping will be booked at your own leisure, there are some recommendations here. 
This is an example itinerary on the day which may be changed slightly.
07:30 – Meet in the Car Park of Horton-in-Ribblesdale Yorkshire Dales National Park Centre 
08:00 Set off to tackle your first peak – Pen y Ghent (694 metres) 
Meet Mind in Bradford team at Ribbleshead viaduct for a drink/snack break
Set off to tackle the second peak – Whernside (736 metres)
Meet Mind in Bradford team near the Old Hill Inn for another refreshment break
Set off for the third and final peak – Ingleborough (723 metres) 
20:00 – We'll aim to get you back to the starting point within 12 hours to celebrate!
What should I pack on the day?
Waterproof Jacket and Trousers
These can range from very cheap to very expensive. When shopping for these, make sure you buy items that are 'waterproof' rather than 'water-resistant' – there's a big difference in a downpour.
Base layer
Something to wear next to your skin, under your other clothes, when you're walking. We advise against cotton as it soaks up water, rubs, and doesn't dry easily. A synthetic T-shirt is a good idea, or if you get cold easily you may want to try wool.
Fleece/Jumper
Something to keep you warm on the summits in case it's windy
Boots
A good pair of walking boots. We recommend buying these in a shop and trying them on first, rather than ordering them online, as different brands are slightly different shapes.
Check out this blog with tips on buying walking boots.
Walking Socks
Proper walking socks have more padding at the heel and are designed to wick away sweat.
Dry bags
You need to keep the things in your bag dry, so we recommend dry bags or a waterproof backpack cover, which come in different sizes and can be used for everything from cameras to jumpers. Plastic bags also work but are liable to tear.
Backpack
To carry your spare clothing, food and water. 30 litres capacity is ideal.
Walking Trousers
You want something light-weight and flexible, and that dries easily. Please do not walk in jeans as these soak up a lot of water and are stifling on a hot day.
Gloves, hat and scarf/buff
You need to keep your head, hands and neck warm. Gloves should be waterproof. These are also required events in the summer as conditions can be changeable at different altitudes.
Water
Please bring enough water bottles to carry 2 litres of water.
Food
We'll provide a packed lunch for your walk, let us know your dietary choices. You should bring along plenty of snacks too.
Personal first aid kit
Whatever medication you need, as well as some blister plasters/lip salve/painkillers (hopefully not needed!). Your walk leader John is first-aid trained and will be carrying his own kit too.
Optional Walking Kit
Walking poles
Many people find these useful for spreading the effort required to go uphill and reduce joint impact going downhill.
Sun Cream
Midge Spray
Map
Our leaders do all the navigating on our walks, but please feel free to follow along on your own map if you have one!
Gaiters
These close the gap between your boots and trousers, help keep your feet dry and keep dirt out of your boots.
You can find out more in this blog on how to use gaiters.
Thermos Flask
There's nothing like a hot cup of tea on the hillside!
Camera
Make sure it's waterproof or you have a waterproof case/dry bag to keep it safe.
Do I need to raise the £250 in addition to paying my £35 registration fee?
Yes. Your £35.00 registration fee is non-refundable and helps cover the organisation of the day including refreshments and your qualified mountain leader.
To ensure Mind in Bradford cover our costs and raise enough money to fund our vital mental health services, we need participants to raise the minimum fundraising target. If you want to support us but aren't sure if you'll reach the target, please do get in touch with us for a chat.
Your registration fee is due upon registering your interest in the challenge. Your £250 fundraising total is due up to 4-weeks after the Yorkshire Three Peaks. So you have until 6th September to fundraise the full amount. 
The easiest way to fundraise it to use Just Giving as it links straight to Mind in Bradford. 
Can I register as a team?
Of course, our mountain guide can take up to 12 people on this guided walk. Each person registering will need to pay the £35 registration fee and fundraise the £250 but this can be done as a joint effort i.e Team of three = fundraising target of £750.
If your team size is in excess of 12 people then contact Lydia Gray as we can book an additional guide to facilitate your day in the mountains.