We support everyone in Bradford District and Craven with their mental health and wellbeing. 
Get the support you need every day of the year with our range of mental health services:
Explore our full range of services here: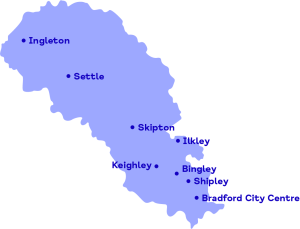 Kind, gentle, understanding. It was like he'd wrapped me in a blanket of kindness.
Client – Safe Spaces
Last year we supported 13,939 individuals with their mental health and wellbeing including
9,353 wellbeing assistant completions on the Healthy Minds Website
3,679 attendances at recovery and wellbeing groups 
4,365 crisis support crisis support sessions provided by Safe Spaces
To find out more about our services and hear from the clients supported by them in the last year read our latest Impact Report for 2022-23.
Helen Davey, CEO introduces our latest Impact Report
Your local Mind is part of a network
We've been awarded the Mind Quality Mark, which means we work to the high standards set out by the national charity.
We are completely self-funded and our services are tailored to the local area to support Bradford district's mental health.
We rely on the support of our local community, council and government to fund our mental health services which are free to use.
Join our monthly mailing list
Stay in touch with your local mental health charity by signing up to our newsletter.
Sign up below. 
You can unsubscribe at any time.