News Archive July 2019
The Sanctuary opens its doors to over 16s
We are delighted to announce that our award-winning safe space area, The Sanctuary, is now open to young people aged 16 and over.
Until recently, this service was only available to adults. But now, all our staff have the appropriate safeguarding training and skills to talk to younger people experiencing a mental health crisis.
The Sanctuary is a calm, safe space for those experiencing emotional or mental distress and is often an alternative to A&E. It is open between 6pm and 1am every day of the year and referral is through First Response by calling 01274 221181. It is based at our HQ in Kenburgh House on Manor Row in Bradford.
Sanctuary Manager April-Joy Serrant said it was another step towards meeting the increasing demand for mental health support from younger people.
"We know that young people are struggling more and more with their mental health and often experience anxiety, panic attacks and depression," she said. "We can offer a calm, kind and caring environment in which they can talk openly about their feelings and emotions to someone who empathises and understands.
"We are looking forward to welcoming younger people and offering them support."
We also offer 1:1 support sessions for young people aged 14+ who are worried about their mental health but not in crisis. These are held at Shipley Medical Centre, The Ridge Medical Practice and Picton Medical Centre. To book an appointment, call your own GP receptionist and ask to see a Mind Recovery Worker in Extended Access.
Author: Nattie Haden
Posted on: 23rd July 2019

---
Help for people who experience hearing voices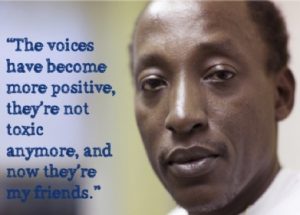 Do you hear voices? If so, we can help you. 
We are a Maastricht interview centre, offering this innovative questionnaire which can help you understand your voice hearing experiences better. It's designed by people who hear voices and mental health professionals, and explores your personal experiences to come up with individual coping strategies.
Diagnosis is not important. We just want to help you manage your voice hearing experiences better. Call 01274 730815 to arrange a meeting at our Bradford office.
Author: Nattie Haden
Posted on: 18th July 2019

---
Mental Health Directory
Find a vast database of local organisations who offer support and advice across a variety of areas Find out more
What's On
Click through to our events calendar to the wide range of events happening on a daily basis. Events Calendar
Guide-Line
Guide-Line is our confidential telephone helpline offering support & information to anyone over the age of 18 Find out more
Supporters, Funders & Awards