A summer of FUNdraising!
We're putting the fun in fundraising for Mind in Bradford this summer!
We are extremely grateful for all our amazing fundraisers and donors who together have raised over £8,700 towards mental health services in the Bradford, Craven and Airedale district this summer.
They have cycled impressive lengths and ran tough races to make this possible and we wanted to highlight a few of our super summer supporters to say a big thank you!
A Dash Of Glitter At Ilkley Food & Drink Festival
A first big thank you to everyone at last month's Ilkley Food and Drink Festival. We appreciate everyone who donated or came to see us for glitter, crafts or even just a chat!
The festival itself also made us their chosen charity and generously match-funded the donations we received over the weekend, helping us achieve an amazing sum of £4,208.
This incredible total will go towards ensuring no-one in the Bradford District and Craven has to face a mental health problem alone.
Bill Bikes From London To Edinburgh (And Back!)
On 7 August, Bill Squires and Steve Coleman set off from Loughton in Epping Forest. 
They plan to cycle from London to Edinburgh and back before Friday 12 August, a total of 946 miles with over 44,000ft incline.
While Steve has chosen to fundraise for the Wooden Spoon, Bill is riding for Mind in Bradford and has raised over £3,300 in support of mental health in the Bradford, Craven and Airedale district.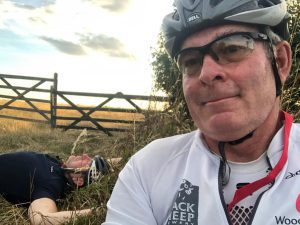 Here's the link to Bill and Steve's JustGiving page if you'd like to donate! We're wishing them the best of luck as they near the end of their challenge – a huge thank you.
We honestly don't know if we can do it – but isn't that the idea of a challenge?
John And Alfie Cycle Through France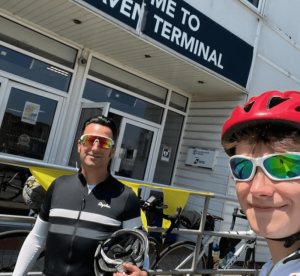 Last month our former Chair of Trustees, John Vincent, and his son Alfie embarked on an epic 1,000km cycle ride across France, and ended up cycling a further 100km by the time they finished!
In their journey from Bingley to France, the father and son duo raised over £900 towards our vital services.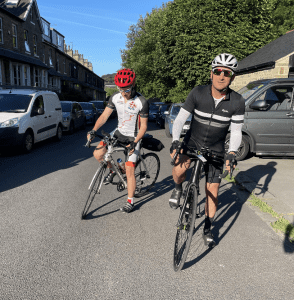 Their JustGiving page is still open if you'd like to donate and we'd like to say a big thank you to both for your support!
Charlotte Gets Her Running Shoes On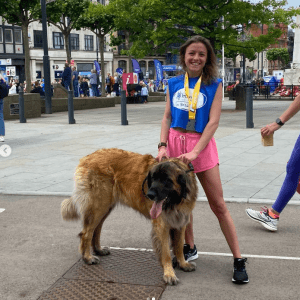 Charlotte Corner ran the Leeds 10k and raised over £200 and, as if that wasn't fantastic enough, she will continue to fundraise as she is also taking on the Yorkshire Marathon in October. 
If you'd like to support Charlotte's Yorkshire Marathon here is the link to her JustGiving page along with her story and regular training updates, so you can follow her progress all the way to the big day.
I'd like to do my bit to raise money for Mind in Bradford to help more people stay well and have healthy minds, getting the support that they need and deserve.
Thank you Charlotte and best of luck.
And to everyone who helps us fundraise or donates – we couldn't do it without your help. Thank you!
Feeling inspired? Why not join our fantastic fundraisers by taking on the….
Go the distance for better mental health!
The 600 Mile September challenge is back and it's time to rally your team.
It's time to gather your team, complete 600 miles between you during September and help us to change lives across Bradford, Airedale, Wharfedale and Craven. You can walk, cycle, swim, run, hike or whatever you fancy – as long as you reach the 600 mile target as a team!
Read more about how you can get involved in the 600 mile September challenge here where you can also download our digital pack to find helpful tips and get inspired.
Posted on: 10th August 2022