Mind in Bradford spreads awareness and glitter at Pride
On Saturday 9 July, the Mind in Bradford team headed down to Centenary Square for a day of sunny Bradford Pride celebrations.
Our staff and volunteers had an amazing day spent raising awareness of our mental health services, chatting to attendees and of course standing with and celebrating Bradford's vibrant LGBTQ+ community.
Our glitter station proved popular with all as we made sure everyone that came by left with a sparkle!
We were proud to be at the event alongside other organisations doing fantastic work with and for the LGBTQ+ community, such as Mesmac Bradford, the HALE Project, and the Equity Partnership.
Was absolutely fantastic to see you all and having fun as well as promoting mental health support for Bradford and all the people in need
 – David, stall visitor
I really enjoyed chatting to folks on the Mind in Bradford stall at Pride! LGBTQ+ people are disproportionately affected by poor mental health outcomes, and I thought it was great to show members of my community that the organisation is an ally
 – Ryan, Programme Manager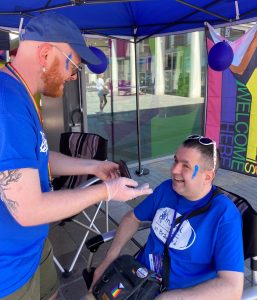 I really wanted to support Mind in Bradford at Pride and had such a great time volunteering on the stall, talking to passers-by and getting everyone glittered up for their celebrations. Will definitely do it again!
 – Ezra, volunteer
Posted on: 13th July 2022