Fundraiser Ben writes about his incredible experiences taking on the Dales Divide
Fundraiser Ben Rickaby, who is taking on six ultra-distance cycling challenges in four months, writes about his incredible experiences taking on the Dales Divide 600km cycling challenge.
The first of my challenges to raise awareness and funds for Mind in Bradford began for real early on Saturday 1 May, although preparation and anticipation had been building for some weeks! After a hiatus of ultra events during the pandemic, the Dales Divide was upon the rather large crowd of eager 'bikepackers' gathered at Arnside Pier shortly before 8am ready for an assault on the 600km route from West coast to East coast and back again. The organiser, Chris Ellison and previous winner Alex Pilkington gave a fitting tribute to the late, great Mike Hall and with that the event started, rather unassumingly – which is often the case with these events – no entrance fee, no prizes and little in the way of incentive other than a battle against your own will and more often than not, the elements.
The weather for the start was kind, cold but sunny and I was hoping that it would last for the coming days. I set out amongst some strong riders but was careful to ride at my own pace and not be too influenced by others – I had no expectations other than that I knew it would be…challenging. I knew that my preparation had not be ideal so was realistic about my chances – I lacked some confidence in my ability not having completed something for a couple of years so I was unsure whether the full route would be within my capabilities. However, I wanted to test myself and the kit on a course that was fairly unforgiving, with plenty of off-road sections which were both technical and leg-sapping.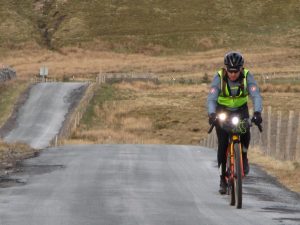 It was clear on the first off-road sections that I was not a skilled descender and while more experienced mountain bikers on their suspension bikes whizzed past, I cautiously tip-toed down trying to avoid an early crash on my drop bar 'gravel bike' which was set up with some nice fat 47mm tyres that I thought up to the task. Thankfully I came through the first test unscathed and the road sections opened up which allowed some time for recovery and taking in the landscape. Heading into the Yorkshire Dales, the inevitable hills began in earnest and the road turned into bridleway, and eventually into not more than a narrow path across limestone sections that were more suited to clambering than biking. Welcome to the first 'hike a bike' sections! The ascent continued until the sight of the distant peak of Ingleborough greeted us across the vast boggy plain stretching out towards the famous Ribblehead Viaduct. There was little in the way of a track to go on and we ended up negotiating peaty bog after peaty bog for what seemed like hours until the smoother gravel and eventually a short road section to the next gravel sections to Austwick.
The first café I had seen in hours was packed with Dales Divide riders and the queue looked ominous, so I ploughed on towards Malham tar. But after 7 hours with no resupply points I was in need of some refreshments, so I headed for a nearby service station in Threshfield. I re-joined the route and negotiated the beast of a climb over from Rylestone to Barden moor before dropping down to Bolton Abbey and over Skyreholme towards Pateley Bridge for another coffee to warm my already numb toes before the sun completely disappeared. At the service station in Pateley Bridge I chatted with a number of riders who had the same idea and we shared stories of the events so far, thankful to have had dry weather but also fearful of the storm that was predicted for Monday. My aim was to reach somewhere near York before catching a few hours' kip and deciding in the morning whether to crack on to Scarborough or head North and take the short cut to Arnside and avoid the torrential downpours forecasted.
As the dark descended the route became more and more challenging, as not only the terrain played a factor but coordination was diminished with the limited light available and the now sub-zero temperatures to contend with. I started to suffer. More hike a bike sections followed until eventually we reached some smoother tarmac towards Boroughbridge, and the last chance really to get some much-needed nutrition albeit not particularly healthy. Many liken these events to eating competitions with some cycling in between and with near to 9,000 calories burned after 13 hours in the saddle, I finally settled in for a few hours kip in a warn bit of shelter. The final few hours I had battled with my head which I had almost forgotten does to tend to happen over extended rides – it had made me remember what it was like to suffer and push through. It is a real roller coaster of emotions and feelings and it is the ability to push through the difficult times which really is the key to success. However, even though I woke on Sunday morning to bright sunshine, the exertions and effects of the cold the day before had caught up with me and rather than causing too much distress on the body and mind I opted for the shorter route back to Arnside and turned north instead of continuing east. I felt a failure but I was perhaps not quite there in terms of training and resigned myself to using the event as a good block of training ready for the events that were to come. 
I settled into a nice sedate, relaxing pace and ticked off the miles through the northern Dales towards Dent. It was near here when I got overtaken by a cheering event organiser who had mistaken me to be in the lead. Oops, my tracker had rather embarrassingly shown me to be the front rider after my short cut! After a red-faced explanation to the excited passengers who had now stopped to take photos I continued my solo journey to Arnside arriving just before 11pm, weary but with some sense of accomplishment. 1 hour later the 'real' leader emerged through the darkness to take the title of first rider back after just 40 hours of continuous riding…what a performance James Craven!
Reflecting on my own performance, I experienced what it was like to suffer again on the bike knowing that I would come through it eventually and that pain would turn to joy (and probably back to pain again!). Much akin to life and the battles that I, like many others, have with life and their mental health. There WILL be better days. I also know that I will come back riding stronger knowing that I pushed as hard as I could…maybe not the full 600km this time but I was happy with 23hrs and nearly 400km.
Since the Dales Divide, Ben has tackled two further challenges, including the Alba Ultra 700km!
Posted on: 4th June 2021