Mind in Bradford cannot operate without the support of the local community – this means you! We are an independently run local charity which means we are responsible for raising all of our running costs. We couldn't provide the vital services and support without our amazing fundraising community across Bradford – especially during this difficult time.
We have lots of free materials to support your fundraising from buckets and balloons to banners and badges. We also have a great team waiting to help you, with hot tips and guidance to make sure you make the most of your fundraising.
Together we can also raise awareness of the support available for people struggling with their mental health.
Mind in Bradford Fundraising Calendar 2020-2021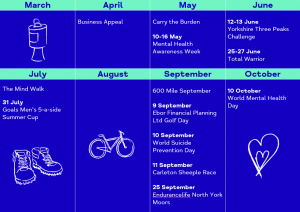 Download as a PDF here.
How to get involved
First things first – we need you to register your fundraising, so that we can make sure that you've got everything you need to make it great!
Register by clicking the purple 'Register now' button to the left and filling out our on-line form.

JustGiving – an easy way to raise funds
An easy way to raise sponsorship for your fundraising activity or event is to create an online fundraising page with JustGiving.
Once you've created a page, you can email, tweet and share your link on Facebook & Instagram to all of your friends, family and colleagues.
It's a simple and effective way to collect funds, and the donations come directly through to us!
Struggling for ideas?
Raising money can seem like a daunting prospect, but it doesn't have to be! 
Why not check out the information and events on our fundraising pages on how you can raise funds individually or as part of a group for Mind in Bradford.
Fancy a chat?
Why not email our friendly Fundraising team to help you get started? Our email address is [email protected].