Running for mental health: Jack's story
Jack decided to fundraise for us after using our support services while experiencing mental health difficulties. On Sunday 8 May he ran the Leeds Half Marathon and raised an amazing £405, which could support over twenty people in mental health crisis at our safe space The Sanctuary.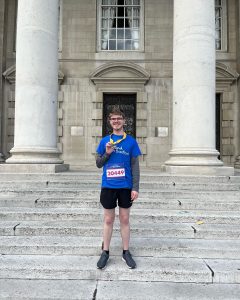 I have suffered with poor mental health for years and didn't seek help. I can remember some early symptoms happening when I was just 12, over eight years ago. For me, depression has been like an inertia, whereby for years it has silently cohabitated with me.
Mind in Bradford has been there for me for support 365 days a year. Their emergency Sanctuary service has helped me get over my darkest of days while the rest of the world sleeps. It is a charity I hold close to my heart and it has helped me get through my rock bottom.
The Sanctuary, its urgent care crisis service, offers one-to-one support at unsolicited times of the night when people feel most alone. This is provided 365 days a year and it has helped me through my worst days.
Giving me a place to go and someone to talk to while you feel so alone is why Mind in Bradford is an amazing charity.
When finishing my first 10k I never thought I'd be able to remotely finish a 20k run, a huge thank you to everyone who has helped fundraise for Mind in Bradford, an incredible mental health charity that has personally been there for me and who I am incredibly grateful for.
It's not too late to donate – you can still sponsor Jack here.
Has Jack's story inspired you? We have five charity spaces left at the Leeds 10k on Sunday 3 July! Find out how you can Run for Mind in Bradford.
Posted on: 18th May 2022

Test