Why is South Asian Heritage Month important?
SAHM seeks to commemorate, mark and celebrate South Asian cultures, histories and communities as well as understand the diverse heritage and cultures that continue to link the UK with South Asia.
Along with providing learning opportunities for others, the month enables people of South Asian heritage to reclaim their history and identity by sharing their own stories and experiences.
We value celebrating different cultures, hearing different experiences and delving into history, and the chance to stand with and celebrate the South Asian communities of Bradford.
We understand there can be additional barriers to seeking mental health support for South Asian communities, such as language, differences in cultural norms and expectations and generational trauma. We want to better understand these and work to make our services accessible to all. 
What's going on in the Bradford District?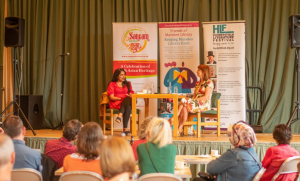 Sangam Festival takes place from 18 July – 17 August, with events and activities held online and in venues and outdoor locations across Kirklees. 
The festival celebrates all things South Asian arts, culture and heritage. The aim is to bring people together to enjoy heritage and multi-arts events in a spirit of celebration, positivity and harmony.
Further blog posts and resources