Mind in Bradford is a national award winner!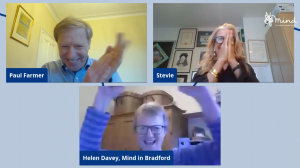 We are extremely proud to announce that we have won the national Mind Network Excellence Award for Sustainability and Growth! 
The Mind Network Excellence Awards are presented annually, and this year's winners were announced at the Mind Network Leaders Conference. 
Last month, we were delighted to hear that we had won the award for Service Design and Innovation, which is one of six sub-categories within the Sustainability and Growth award. This week, we were over the moon to hear that the Mind network had voted us as the winner of the overall Sustainability and Growth award!
There are around 125 local Minds and only three awards, so it is a huge achievement for us to have won one of these.
To win the award, we demonstrated excellence which exceeds the Mind Quality Mark (MQM) standards and have displayed examples of best practice in our work. We were so pleased to share our story at the Mind Network Leaders Conference for the Mind Network to see. 
Our CEO Helen Davey said:
It's been a huge, huge team effort for Mind in Bradford for the last three years, and in that team I include our clients, our staff, our volunteers, our trustees, our stakeholders, and colleagues across Mind itself.
Posted on: 27th November 2020

Test