Bipolar disorder and Bollywood dance: Sonita's story
Sonita Mitra is a Bradford dance teacher therapist passionate about Bollywood and advocating for better mental health.
We sat down with Sonita to hear more about her mental health experiences, including how her love of Bollywood has helped her with bipolar disorder.
"My first experience was when I was 16," said Sonita, reflecting on when she started to struggle with her mental health. "I hadn't slept for a few days, and I literally went into psychotic mode. My parents didn't understand what was going on.
"This was 33 years ago, a long time ago, so I was sectioned, which was a very scary experience, especially at that time, because mental health was very different to what it is now.
"I kept it very inside of me, I kept it very inwards, to myself. It was my journey, it was my thing, because in society – not just the Asian society, I think, all across the board, whether you're English, Indian, Jamaican, Pakistani, Bangladeshi, Chinese, whatever – mental health is a stigma. It's a stigma in society.
The label that we get when we have a mental illness, that hurts more than anything else, because people judge you, they judge everything about you.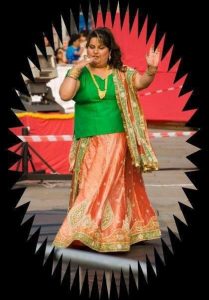 Sonita shares some of her experiences since then, and how she discovered that Bollywood dancing was the best form of medication for her bipolar disorder:
"My love of Bollywood dancing comes from Bollywood films, because it's pure escapism – there's a lot of colours, the music is vibrant, it's very uplifting. So my journey since then has been a lot better. It's been a hard journey, and I still have my dark days, but when you recognise your condition, that's only when you can move forward with it."
Sonita finishes by offering some words of advice to anyone struggling with their mental health:
I would encourage anybody who's going through depression, bipolar, anxiety issues or stress, anything related to mental health, to reach out. There's so much support out there and you can definitely be in a better place. Speak about it, talk about it. Reach out to friends, reach out to family. Don't close yourself away – because when you close yourself away, that's when more darkness happens, and that's when you can spiral and go very low. So definitely reach out.
You can watch our conversation with Sonita in full below:
If you want to talk to someone about your mental health, you can call our free helpline Guide-Line on 08001 884 884, any day from 8am until 12am (midnight). If you'd rather not speak on the phone, you can talk to us via live chat.
Posted on: 13th March 2023