COVID-19 vaccine information
The COVID-19 vaccine programme has begun in Bradford District and Craven.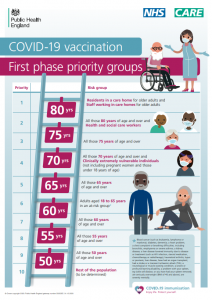 The vaccine is being offered first to the following groups, who are most at risk:
people who live in care homes and care home workers
people aged 80 and over
health and social care workers in England.
The vaccine will then be offered to people in the following order:
All those 75 years and over
All those 70 years of age and over and clinically extremely vulnerable individuals
All those 65 years of age and over
Adults aged 18 to 65 years in an at-risk group
All those 60 years of age and over
All those 55 years of age and over
All those 50 years of age and over.
Patients over 80 are currently being contacted by their GP to offer them an appointment.
There are only small amounts of the vaccine available at the moment. The vaccine will be offered to more people and at other locations as soon as possible.
You will be invited for a vaccine when it's your turn. You do not need to contact your medical practice or the NHS.
Posted on: 29th December 2020

Test