Haggis, neeps, tatties and fundraising on the menu for Clayton Burns Society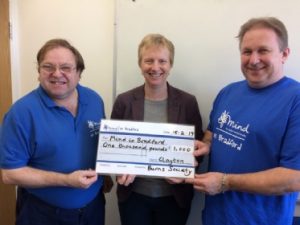 The traditional Scottish event has been running in Clayton for many years and organiser Andy Waterman said Clayton Burns Society had decided to raise money for Mind in Bradford after he lost a close friend to suicide four years ago.
He stressed the importance of organisations which help those in emotional or mental distress, and encouraged people to talk and to seek help if they were struggling.
Pictured are (from left) volunteer Gerald Ashfield, Mind in Bradford chief executive Helen Davey, and event organiser Andy Waterman.
Posted on: 15th February 2019

Test