Ian's blog: Celebrating Volunteers' Week
Do you find yourself stuck in a rut? Perhaps you've found yourself with far too much time on your hands and you don't know what to do with yourself? Then volunteering your time may well be the answer you're looking for! Most organisations and charities tend to have volunteers who may quietly help and assist with keeping everything running in good order and Mind in Bradford is one place that encourages that.
Every year there is a national week where we celebrate the work of volunteers across the charity sector. Mind in Bradford (MiB) want to use this occasion to show appreciation for the amount of time, energy and effort that volunteers give to the organisation.
After attending MiB as a client, where I participated in the many therapeutic groups that they have on offer, I began volunteering for them. I felt like I owed it to them. I was in such a dark place and MiB really helped me out with its structured wellbeing programmes that are run by very talented and empathetic wellbeing practitioners. I felt so grateful that I wanted to contribute and help others who may be in a similar position.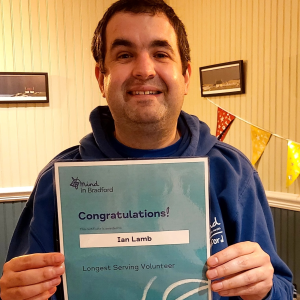 There are many ways in which one can volunteer with MiB. This may be through the befriending service, which can involve talking with someone over the phone or even connecting with them face to face over a coffee. The befriending service is there to connect with people who may be feeling stuck and struggling with their mental health, so by offering your time you may help someone to feel less lonely and isolated.
Over the past year, MiB has launched many Tea 'n' Talks. These are established cafes across Bradford, Keighley and Craven, so please do look out for flyers and posters that advertise these. They are hosted in your local cafes such as The Bothy in Shipley, Cake 'Ole in Centenary Square, Bradford, Morrisons Cafe in Skipton as well as Tea n' Talks in Keighley, Idle's Coffee Lounge, The Canteen in Manor Row, Bradford and Thornbury's Wellbeing Hub.
These are continuing to grow as two more have just been launched; a Wellbeing Hub at Smith Lane in Daisy Hill and The Hub at Bradford City Football Grounds. The aim of these is to create relaxed atmospheres where people can just pull up a chair and chat whilst having a cuppa. There's no need to book and they are at set times and on certain days where you are more than welcome to drop in and say hello. These events are run by volunteers, so if you fancy running a coffee morning then please do enquire at MiB!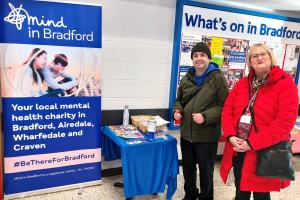 Getting out and about in Bradford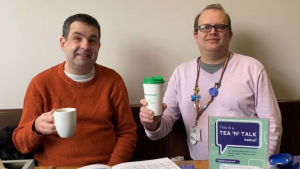 Having a catch-up at Tea 'n' Talk
And it doesn't stop there! As well as Tea 'n' Talk, MiB also runs a Walk & Talk so you could volunteer your time walking to and around different parks. There are a lot of opportunities and potential. What skills do you already have? What further skills would you like to learn? Maybe MiB could help you use them, whether it be through running a MiB stall in Broadway, providing support in our Safe Space project or writing and blogging like myself!
So, as it is Volunteers' Week, this is a perfect moment for you to have a look to see what it is you're interested in and get in touch with MiB!
Check out our volunteering opportunities here!
Posted on: 7th June 2023