Our mini guide to money and mental health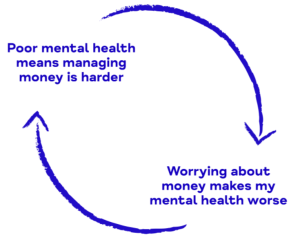 Many of us are feeling stressed or worried about money at the moment. The surge in prices over the last year has created a cost-of-living crisis that is causing many of us to feel insecure and harming our mental health.
We know that poor mental health can make earning and managing money more difficult – and that worrying about money can make your mental health worse. 
Here, you can find some tips on what to do if you can't afford the things you need, and how to get help if you need support with your mental health.
Tips for arranging your money  
Here are some tips you might try to help you organise your money:
Make sure you claim any extra money or support you're entitled to.
Put all your important documents in one place so you can easily find them. This could include letters, bank statements, payslips, bills and receipts.
Include financial tasks in your daily or weekly routine. You could set aside a set period of regular time to think about any tasks you need to do in relation to money, for example, paying bills. You could plan an activity that relaxes you to do after you have finished. You could start by using this money and mental health toolkit from the Mental Health and Money Advice website.
Make a list of all the essential things you need to spend money on each month. This could be things like rent or mortgage payments, energy bills, phone bills and grocery shopping. The Mental Health and Money Advice website has a free budget plan that could help.
If you're struggling to pay your debts, you should seek debt advice. You may find it helpful to contact one of these debt institutions.
Use bank accounts that allow you to put money to one side in different funds. This can stop you spending the money you need for rent or bills. Money Saving Expert has more information about different banking apps. 
For more support and advice on finances, download the Cost of Living Booklet for Bradford District and Craven, packed full of information.
If you can't afford bills or food 
If you can't afford the things you need, help is out there. Remember, everyone has the right to essentials like food and housing. If you need support, the following things can help:
Support for your mental health 
Talk to a friend or family member you trust. 
Call Guide-Line. Financial problems can make you feel that there is no way out and that there is no hope. If you find it hard to see a way forward, you can call our free helpline Guide-Line on 08001 884 884, open 8am-12am every day. Or talk to our team via live chat. 
Out of these hours, call the Samaritans on 116 123. 
Posted on: 23rd November 2022

Test