Step Up for Bradford's mental health at iconic stadium!
We're urging people to step up – to a fundraising challenge at the home of Bradford City AFC. 
Individuals or teams are invited to a special event at the University of Bradford stadium to climb the equivalent of an iconic peak on the stadium steps. 
For example, 56 climbs of the stairs would take you to the top of The Chevin, 925 feet of ascent (282m). 
More challenging climbs are to the top of Malham Moor in 82 climbs, totalling 1,348 feet of ascent (411m), or scaling Whernside in 147 climbs, 2,414 feet of ascent (736m). 
They could be undertaken by individuals, or by teams in a relay-style event, on Sunday, March 26.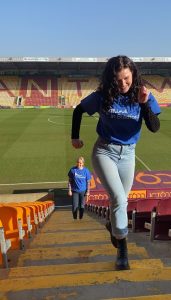 People taking part are asked to raise at least £150 – a sum which could help us to fund up to five sessions of support for someone in mental health crisis. 
Registration is now closed for this event, check this page for more fundraising events to get involved with. 
Paula Watson, Director of Operations at Bradford City AFC said: 
Mental health is important to all of us here at Bradford City AFC, and we are delighted to be hosting Mind in Bradford's 'Step Up for Bradford' challenge on March 26. The work we have done, and provisions we have put in place, over the past 18 months have shown huge progression for us, as we continue to spread the right messages and support as many people as possible.

We believe no one should have to suffer in silence, and through partnerships with the likes of Mind in Bradford and Andy's Man Club – as well as our own in-house Mental Health Supporters' Group – we are committed to making a positive change across the district. We are looking forward to seeing as many people as possible 'Step Up for Bradford' next month, as we continue to support those who need a helping hand.
Lydia Ngwenya, Fundraising and Business Development Manager at Mind in Bradford, said:
Conversations around mental health are finally starting to change. But there's still a long way to go.

Please join #TeamMindinBradford for this event which promises to be a fun day out and you can raise money that will make a huge difference in your local community. You can help to get people the support they need, when they need it.
For more information and to register visit our Step Up for Bradford webpage.
Posted on: 1st March 2023