Peter's Lakeland Marathon run
Peter is married with two children and living in Knaresborough. He is a partner in a consulting business and over the years has taken part in several half marathons and two marathons in the past. 
Why did you decide to run a marathon for Mind Bradford?
My wife Ruth is the Chair of trustees for Mind in Bradford and over the years mental health has been a passion and interest of ours. I am a mental health first-aider at work and make sure I am always available to listen to a colleague if they are struggling.
This marathon just seemed to work on lots of different levels, it's a charity that Ruth and I support, it's a great running challenge in a beautiful area, and it happens to be on my birthday!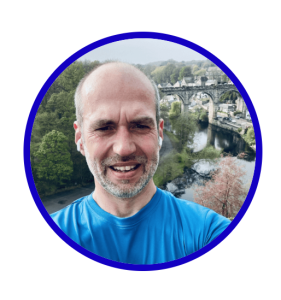 How are you feeling about the Lakeland Marathon?
I am looking forward to the Lakeland Marathon, though I've still got quite a bit of training to do. I've done two marathons in the past, both fundraising marathons, but they were road ones, this will be my first marathon on a trail in mountainous terrain!
Lakeland Trail Marathon in Coniston video reel:
What is keeping you motivated to keep training?
I'm hoping to set an example to my children, I have two boys, my eldest son's 14, my youngest one is 11. It's good for my boys to see that exercise is good for you and that now and again we can challenge ourselves outside of our comfort zone. I know they both found the restrictions during the pandemic challenging, as did lots of young people. I am pleased to be supporting a charity that helps support young people's mental health and wellbeing.
How have you been training for your first trail marathon?
I mix up my training by playing football and cycling with my family. I normally run a quick half hour but when you have to run for two hours or more it can be very painful.
I have the same upbeat playlist playing to keep the energy up, and I just find that my mind wanders. I probably can't tell you what I've thought about, but I know I've been quite relaxed! The last half hour though is horrible because that's when the pain kicks in and then I'm focusing on ''Where am I? How far is it to finish?''
What would you say to someone thinking of taking on a running challenge?
I'd say you don't have to go full marathon straight away. I did at least three half marathons before I did the London Marathon. I did the Leeds Half Marathon twice and I did the Great North Run which was the first time running with really a massive crowd. There are some great events that you can do, you don't have to start with something that's so intimidating, build up to it.
My barber used to run Iron Man races and before the London Marathon he gave me two great pieces of advice that I pass to anyone I know who's running a marathon.
Tip number 1 is to treat 20 miles as halfway. What sometimes happens is people get to 13 miles and they think 'right, I'm halfway there, I feel OK, I'll speed up' and by the time they get to 20 miles they've 'hit the wall', and then it's a tough end to the run.
Tip number 2 is don't weave. For example, in the London Marathon, there's so many people that if you weave round people all the time, you probably end up adding another half a mile onto the actual distance that you run. Just keep your pace: speed up, slow down and stick to your line.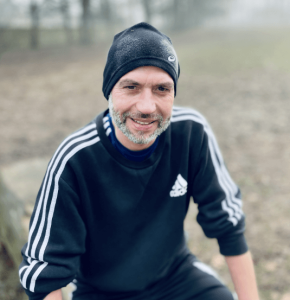 Peter on a training run in the winter months
Posted on: 24th May 2023