Turn Blue Monday into a Brew Monday
This year's Blue Monday falls on Monday 18 January. Here at Mind in Bradford, we will be turning it into a Brew Monday.       
The third Monday in January has become known as Blue Monday. The dark nights, bills from Christmas and waiting for payday can all contribute towards making this day quite depressing for many people.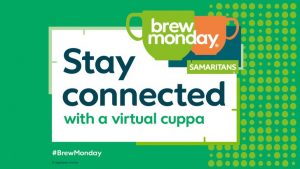 We want to turn this day on its head and into something positive by encouraging people to get together over a warming virtual cuppa. 
Reach out to a friend, family member or colleague for a virtual cuppa and a chat. Taking time to really listen to another person could help them work through what's on their mind. ​Now more than ever, sharing a brew is more than a drink – it's about reaching out, checking in and staying connected.   
We have lots going on on Blue Monday. You can join in with or seek support at any of the following sessions or services:
11:30am-1:30pm: Walk and Talk 
12pm-12am: Guide-Line
2pm-3pm: Qi Gong
3pm-8pm: Guide-Line live chat
4pm-5:30pm: Mixed Peer Support
6pm-1am: The Sanctuary
6pm-7:30pm: Supporting Others
6:30pm-9:30pm: 1:1 Support at Park Grange, The Ridge and Picton.
For more details and to book, visit our What's On calendar.
We would love to see what your #BrewMonday looks like! Tag @mindinbradford in your social media posts or email your photos to [email protected].
Posted on: 11th January 2021

Test